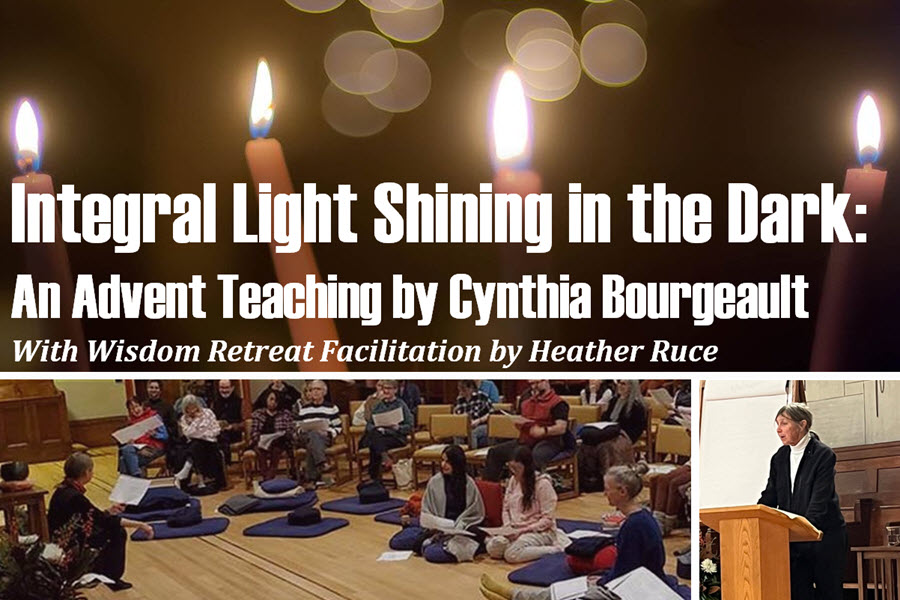 Exploring Advent through the Eyes of Jean Gebser and G. I. Gurdjieff
Teaching by Cynthia Bourgeault
With Heather Ruce leading Advent Wisdom Retreat weekly interactive sessions
In this groundbreaking teaching, Cynthia Bourgeault takes us on a deep dive into the profoundly Christian and incarnational mysticism at the root of Jean Gebser's Integral Evolutionary theory. She explores how some of Gebser's core ideas, particularly around time, transparency, spiritual generativity, and "intensification of the present" open up whole new windows of insight on classic Advent themes. She also explores how the great incarnational themes of Advent illuminate and "shelter" Gebser's thinking, transforming it from an intellectual tour de force to a luminous offering of the heart—and how the practical, attention-based "exercises" developed by G. I. Gurdjieff can help to "put legs" under the whole enterprise, and offer us a way forward in our own uncertain times.
As a new element of this offering you are invited to join our online group sessions as an interactive component for the 2022 Advent Wisdom Retreat. There will be a weekly Zoom gathering on the following Fridays: December 2nd, 9th, 16th, & 23rd from 7:30-9am Pacific Time / 10:30am -12pm Eastern Time. These sessions will be facilitated by Wisdom Leader Heather Ruce, with Cynthia Bourgeault joining on Dec 16th for conversation and Q&A.
You will have life-time access to this content, including any resources and recorded portions from the Advent Wisdom Retreat sessions.
If you have already purchased the Integral Light Audio teaching earlier this year, you will be notified by email with information for joining the Advent Wisdom Retreat as an added option.
---
Some prior familiarity with the teaching of Jean Gebser is strongly recommended, but not required. If you're a newcomer to the Gebserian terrain and Gebser's five-hundred page masterpiece The Ever-Present Origin feels a bit daunting, Jeremy Johnson's Seeing Through the World offers a concise and enormously helpful overview. Learn more here. You may also want to read Cynthia's 14-part blog series: Exploring Jean Gebser.