Advent Wisdom Retreat – Online with Cynthia Bourgeault and Heather Ruce
November 27

-

December 23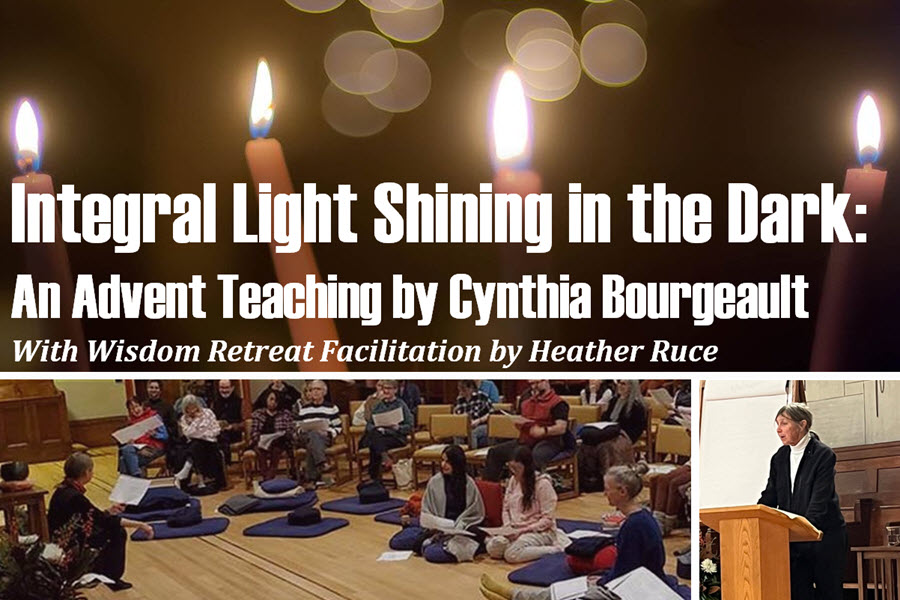 For Advent this year, Wisdom Waypoints will host an online, interactive Wisdom retreat based on the Audio Teaching Series:
INTEGRAL LIGHT SHINING IN THE DARK: Exploring Advent through the Eyes of Jean Gebser and G. I. Gurdjieff
Starting November 27 to December 23, 2022
During the season of Advent, an incredibly fertile time of waiting and preparing for the birth of Christ through our own awakened being, it is easy to lose sight of this call in the busyness of holiday gatherings, festivities, and demands of the horizontal dimensions of our lives. This four-week online retreat offers an opportunity to explore the material of Cynthia's Advent teaching series alongside other participants in the wisdom web, through the simplicity of shared presence, practice, and contemplative conversation. The retreat is intended to provide an anchor throughout Advent, connecting us to the true potency of this season that is full of luminosity and possibility.
How this Interactive Online Wisdom Advent Retreat will work:
There will be a weekly online gathering on Fridays December 2nd, 9th, 16th, & 23rd for 90 minutes: 7:30-9am Pacific Time / 10:30am -12pm Eastern Time. Our time together will include chanting, a Gurdjieff Exercise, themes from the content of focus for the week, and time for small and large group sharing. We will focus our weekly flow and gatherings on the following:
Week 1: December 2, 2022 – Focus on course content:
              First Evening
              1-1: Temporicity
              1-2: Chiastic Structure of Advent
              1-3: Preparatory to the Clear Impressions Exercise
Week 2: December 9, 2022 – Focus on course content:
              2-1: Diaphaniety
              2-2: That "Other Intensity"
              2-3: The Lord Have Mercy Exercise
Week 3: December 16, 2022 – Focus on course content:
              3-1: Verition
              3-2: Vigilance
              3-3: Movement 39 Exercise
              3-4: The Clear Impressions Exercise
Week 4: December 23, 2022 – Focus on course content: 
              4-1: Intentional Suffering as Cosmogonic Agency
              4-2: Annunciation and Fiat
              4-3: The Lord have Mercy Exercise
              5-1: Apocalypse, or "The Unveiling"
* Participants will receive an email on the Sunday prior to our gathering with a reminder of our focus for that week along with some reflection questions and an inner task.
* Cynthia Bourgeault will join us live Zoom session on December 16th from 8-9am PT / 11am-12pm ET.
You will have life-time access to this content, including any resources and recorded portions from the Advent Wisdom Retreat sessions.
NOTE: If you have already purchased the Integral Light Audio teaching earlier this year, you will be notified by email with information for joining the Advent Wisdom Retreat as an added option.
Watch below as Cynthia gives a brief overview of this upcoming Advent retreat.