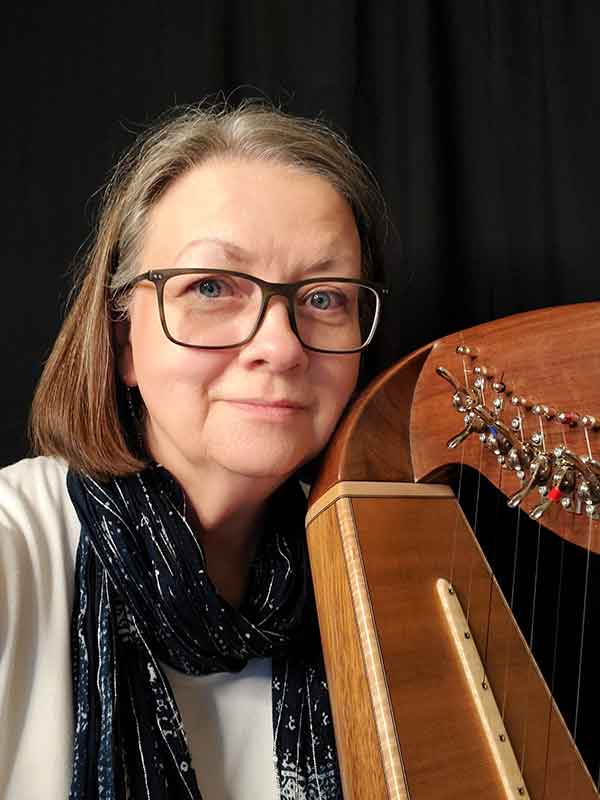 Debbie Brewin-Wilson is an Episcopal priest and spiritual director who travels a Celtic Christian Wisdom path as a musician and anam cara (soul friend). Debbie currently serves as the Rector of St. Mary's Episcopal Church in Sparta, NJ. A sought-after Celtic harp teacher and songwriter, she always seeks ways to help people find their voice and connect more deeply with God.
In composing chants and songs, she invites the listener to add their voice and create their own harmonies. Her music is available at https://debbiebrewin-wilson.bandcamp.com/ or on other platforms (Spotify, Apple Music, amazon) at https://debbiebrewin-wilson.hearnow.com/.
To contact Debbie or learn more, please visit her website, https://www.wisdomharp.com/.
Be Present, O Christ
Be present, O Christ
As we gather together.
Be present, O Christ,
As we center in you.
We Are Love
We are Love, held in Love
Always blessing; always blessed
We are Love, held in Love
In Love's center, we find rest.
Christ Surround Me
Christ before me; Christ behind me;
Christ on left hand and on right.
Christ above me; Christ below me;
Christ surround me, day and night.