This free course offering includes presentations, readings and discussions based on books by Cynthia Bourgeault and Richard Rohr
The Word and Life team has chosen Cynthia Bourgeault's The Wisdom Jesus –teaching the way of the heart as the transformer of human consciousness – to be the primary guidebook that will lead us on our pilgrimage through the Winter of 2023. This will be augmented by Richard Rohr's book, The World, The Flesh, and the Devil, exploring the disorder, trauma, and evil that are arising around us in today's world.
Encountering The Wisdom Jesus
The Nature of Sin and Evil
Confronting Evil with a Transformed Consciousness
Presenters include Pat McClure, Mary Ann Evans, Heather Ruce, Fr. Jim Clark, Rebecca Parkers, Matthew Wright, Cynthia Bourgeault, Harrison Taylor, Buddy Parker, Rabbi Steve Cohen, and Rev. Steve Jacobson.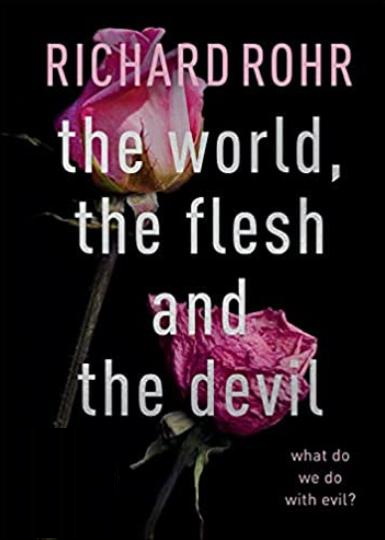 Reading the source books is an important aspect of our work together. So we hope that you'll read with us and join our zoom community online on Thursday mornings for this 10-week spiritual adventure. Please purchase the two books for this series from your local bookstore or from your favorite online booksellers.
This resource series was originally published as the Winter 2023 Word and Life ten-week book study. You can find the Winter archive here.
Word and Life has given Wisdom Waypoints permission to republish the material. Thanks to Mary Ann Evans for hosting this series and making it available to Wisdom Waypoints.
Suggested Supplemental Reading
The Devil You Know: Stories of Human Cruelty and Compassion by Dr. Gwen Adshead and Eileen Horne
Will and Spirit by Gerald May
People of The Lie: The Hope for Healing Human Evil by M. Scott Peck, M.D
Series Back Story from Word and Life
As we step across the threshold of the New Year, we find ourselves inhabiting a darkening world where "wrong comes up to face us everywhere". Those are the words of English playwright, Christopher Isherwood, whose prophetic play in 195l* speaks equally to our own era. There seems to be no escape from the disordered reality around us. So, do we shake our heads and passively ignore what troubles us?
Or, might we, as people of Faith, bring the deeper practices and discoveries of the Wisdom teachings of Jesus to utilize the whole of our human intelligence in a heart-centered and embodied response that heals and balances the challenges of the moment?
Looking at a troubled 20th century, Isherwood proclaimed: "Thank God our time is now – never to leave us till we take the longest stride of soul men ever took". Nearly a century later we recognize that we're still caught in that same stride, feeling for a new wave of direction coming up under our feet. That 'new wave' has been described as an evolving state of consciousness that has been stirring along the edges of our dominant mindset for the last 2000 years and seems now to be emerging as humanity's next collective step.
Last Fall, Word and Life explored one of its outliers, The Wisdom Way of Knowing, as one of the springs of renewal in Christianity today. This Winter we are building our 10-week series on that foundation, drawing on the remarkable insights of Cynthia Bourgeault's The Wisdom Jesus as our primary source book. Richard Rohr's vision in The World, The Flesh, and The Devil gives us clarity in defining the 'wrongs that come up to face us everywhere'. Read together, we hope you'll find them to be a useful foundation for newly understanding and responding to the currents of attitude and behavior that are churning and destabilizing our world.
We've assembled another stellar group of speakers who will speak to the many ways that the The Wisdom Jesus Encounters Our Disordered World. They have all consented to be video-taped and recorded, so you can watch and hear their presentation again within a week of their appearance with us – here on the website. Scroll down the sections and topics found on our series calendar to see why we're excited about this Winter's series.
Uncategorized